This is our central download area for when you are looking
for a flyer/poster/leaflet E-Flyer - check back regularly to see
what's been added. Also check out our Calendar page

Malfouf News
Biography: Malfouf (Malcolm Settree)
Biography: Nomadic Soul Drummers

New Flyer 2011 for download - click thumb below for jpeg image. ** Note change of premises for classes.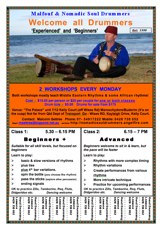 FLYER NOW AVAILABLE
DRUM WORKSHOP 2010 includes new "Chifty" CD