FIND A CLASS WITH MALFOUF &THE NOMADIC SOUL DRUMMERS -

New Flyer for download - click thumb below for jpeg image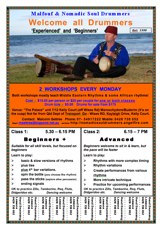 ** Note new address
Beginners class 5pm - 6pm. Advanced class 6pm - 7pm

All welcome - drummers and bellydancers
Class Session Prices are $10 pp for 2009, & you can attend both the beginners & advanced classes for the price of one!


Quality Drums are available for sale, and a new shipment has just arrived - check out the Bazaar page or contact
Malfouf
Two new CD's available for purchase from Malfouf.  One teaches rhythms while the other is all performance tracks, especially for the dancers. 
Check out the
Bazaar
page for more details on purchasing drums and Malfouf's CDs.